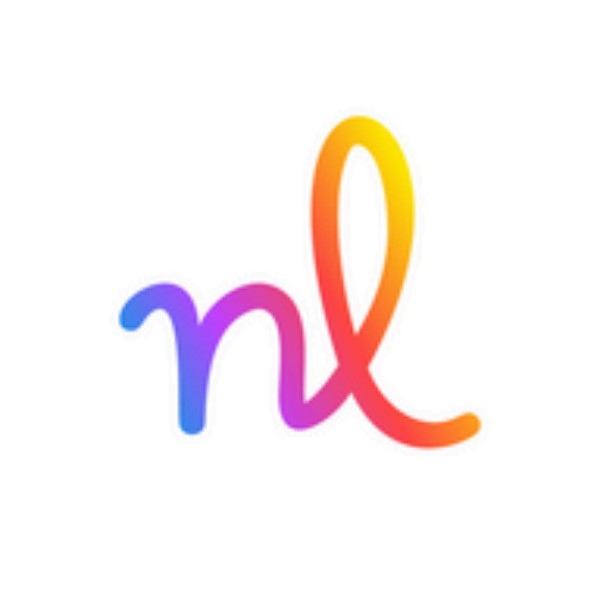 Add to wishlist
Added to wishlist
Removed from wishlist
0
Add to compare
Nuelink is a social media scheduling and automation tool for Facebook, Instagram, Twitter, LinkedIn, Google My Business and Pinterest. I have not come across any social media scheduling tool with this much scope for automations. It indeed puts your social media on autopilot.
Likelihood To Recommend
9.5
PROS:
Simple & Intuitive Interface
Powerful Automation Capabilities
Multiple Brands Management & Team Collaboration
Collections (Folders) for better content management.
RSS Feeds, Calendar View & URL Shortening
CONS:
No Social Inbox or Competitor Analysis
No Chrome Extension/ Mobile Apps
1. What is Nuelink?
---
Nuelink is a social media marketing tool that allows creators, businesses, and agencies to maximize their digital presence. It helps you gain more followers, boost sales, and create brand recognition in multiple digital platforms via powerful automation capabilities.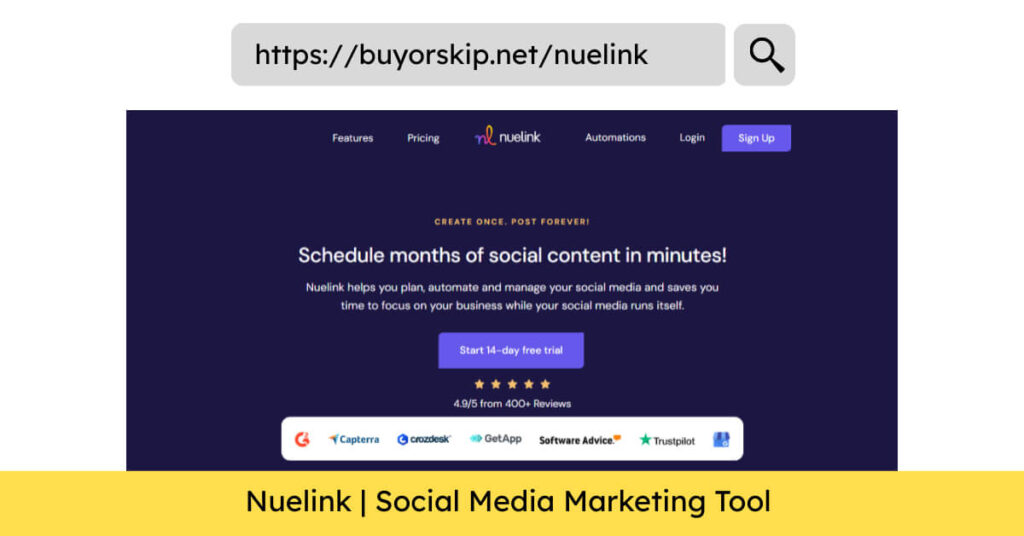 Building your social media presence can be a time-consuming process, but by automating your content creation and scheduling a month's worth of content in just a few minutes, you can free up your time to focus on other important business opportunities.
We have been using Nuelink for a few months and I can honestly say that it will make it a lot easier to plan months of content in advance and never run out of ideas. It is the first social media management tool that I have come across which has such powerful automation capabilities and integrations with different sources of content to put your social media activity on autopilot and grow your social media network. Let's take a look at the Nuelink review.
2. General Information
🌐 Website
Nuelink
👤 CEO & Founder
Bilal Ararou
💬 Customer Support
Live Chat & Documentation
📅 Founded in
2022
🕵️ Founders Profile
11+ years as a product designer, designed and built SaaS products that are used by 10s of thousands of users each worldwide.
💸 Free Plan
Not Available
📱 LinkedIn Page
Check Here
🚀Product Hunt
Not yet launched.
🛣️ Roadmap
Check Here
💰 Seed Funding
N/A
🏆 Awards/ Achievements
G2 Ratings: 4.9/5
Capterra Ratings: 4.8/5
📈 Website Traffic (Similarweb)
20,000+ Monthly Visitors
3. Nuelink Features
---
The user interface is clean and the setup is very simple. After creating an account you will be redirected to 3 step setup guide.
1. Social Media Scheduling
Nuelink lets you pre-schedule posts for Facebook pages, Instagram business accounts, LinkedIn Company, LinkedIn Profile, Twitter, Pinterest, TikTok, and Google My Business profiles. You can authorize social media accounts quickly and easily, just like most of the other scheduling apps in the market.
2. Content Collections/ Folder Management
Collections work like a group/ folder for managing social media posts. It can be a collection of articles, tweets, memes, quotes, questions, videos, reels, etc.
Nuelink has an evergreen content library of hundreds of ready-to-use posts, covering a variety of topics from Quotes, Facts, Memes, Questions, etc. I really liked the idea of managing content into collections so that we can better organize posts and have them ready to post when we need them, without having to search through individual posts and never run out of content ideas. You can even link your collection to a specific set of social media channels, and set your preferred day and time to post from that particular collection.
3. Automation Powerhouse
With Nuelink, you can easily add content to your collections automatically. Just build automation and connect it to the sources you want to add the content from, whether it's an RSS feed, blog, online store, or YouTube channel.
Nuelink integrates with Anchor, Etsy, Shopify, Woocommerce, WordPress, YouTube, Wix, Weebly, Medium Blog, Ghost Blog, SoundCloud, Tumblr, Squarespace blogs as well as Blog Feeds, and Zapier, so you can easily add content from all your favorite sources.
Plus, Nuelink supports scheduling Twitter Threads, Instagram Slides, Instagram Reels & YouTube shorts (Coming Soon) as well. So you can easily add all kinds of content to your collections and share them on your preferred posting times without taking any manual effort. After setting up the above 3 things, you are all set to grow your online presence.
4. Additional Features
The History tab shows analytics of your post's history and engagement, such as likes, comments, and shares. Analytics are quite basic and need to be more in-depth.
Managing Multiple Brands: Nuelink gives you the ability to manage multiple brands under one account and invite your team members to help further for better collaboration.
You can customize your email notification preferences for failed posts, automation, or for when your queue is empty from your account settings.
Nuelink has a built-in link shortener. You will be able to see detailed analytics of link clicks, unique visits, sources, and desktop and mobile viewers.
In the Queue section, all of your upcoming posts are displayed in chronological order. It shows posts in the feed view as well as the calendar view. Media files can be managed from the Media Library.
Features in Roadmap: Post Variations, Tailored Posts, Instagram Tagging, Hashtags Manager, Link in Bio Page, Webhooks, Social Inbox, Android and iOS Apps.
Nuelink has interesting features planned on its roadmap and from the changelog, we can conclude that the product has been actively developed. Overall it seems to be a well-thought-out social media scheduling and automation tool with a user-friendly interface and a good set of features put together and it will be a good alternative to Publer, Radaar, and ContentStudio by the end of this year.
| | |
| --- | --- |
| Founded in | |
| Company Size | |
| Location | |
| Type | |
| Pricing Model | |
| Best For | Creators, Digital Marketers, Ecommerce Businesses, Marketing Agencies, Social Media Marketers |
| Active Users | |
| Features | AI Content Writer, Calendar View, Cross Posting, Follow-Up Comments, Hashtag Generator, Link Shortener, Multiple Brands Management, Reports & Analytics, Social Media Scheduling |
| Integrations | Anchor, Etsy, Ghost, Medium, Shopify, SoundCloud, SquareSpace, Tumblr, Weebly, Wix, Woocommerce, WordPress, YouTube, Zapier |
| Alternatives | |
Founder's Corner
Founder's Corner
---
"Our mission is to help busy entrepreneurs grow and stay in front of their audience through social media automation."
-Bilal Ararou (CEO & Founder)
Pricing
Plans and Pricing
---
Standard and Premium Plan: This is ideal for solopreneurs and small businesses with 1 Brand. Starts from $15/ month.
Business & Agency Plan: If you are an Agency or Creator who manages multiple brands, then you can choose between Business, Agency and Agency-Plus plans depending on how many brands you manage. Starts from $35/ month.
Latest Comparisons


Bitly URL Shortener
Compare


Kwikcart
Compare


BlogHunch
Compare


Medium Blog
Compare
🎁 Best of Buy or Skip
Get best deals, exclusive coupons, review alerts, freebies and giveaways straight to your inbox!
Thank you for subscribing.
Something went wrong.
No fake promotions. We value your privacy.