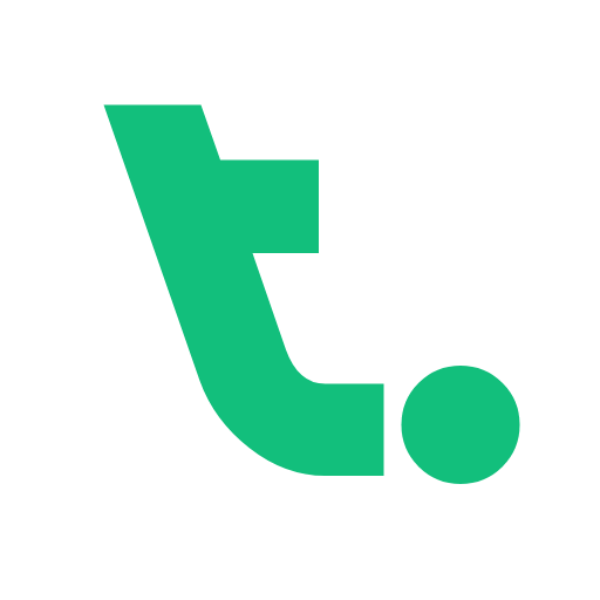 Add to wishlist
Added to wishlist
Removed from wishlist
0
Add to compare
Using Twinr, we were able to convert our community forum site into mobile app quickly and easily. The guides & tutorials provided were easy to understand and the customer support team was extremely helpful. Within a week, our app was published on the Playstore without any problems.
Documentation and Customer Support
9.5
PROS:
Easy to Configure
Detailed Documentation
Platform Independent
Real Time Preview of your App
Huge Time Saver and Budget Friendly
What is Twinr?
Twinr is a cloud-based no-code platform that allows you to quickly and easily convert your website into mobile apps for iOS and Android devices.
With Twinr, there's no need for coding skills or a huge investment in time or resources . You can simply convert your website into a mobile app without compromising any of your website's features.
The best thing about Twinr is it's platform independency. It can convert any mobile-friendly website into mobile app irrespective of frameworks used.
Best For
Businesses who want to make their website more accessible to mobile users but don't have the time or resources to develop a separate app.
Businesses who want to launch a mobile app quickly and without a lot of upfront investment.
Any Industry / SaaS with existing mobile responsive website and looking into building a mobile app.
Convert Any Website Into Mobile App
Ecommerce Stores
E-learning Platforms
Community Forums
Charity Organizations
Dating Sites
Restaurant Ordering System
How Twinr Can Design App in Minutes?
1. Enter Basic Details: Enter basic details of your app like App Name, Website URL, Platform and Industry.
2. Customize your App: Enhance User Experience with App Icon, Splash screen image, customize theme, configure actionable push notifications with Firebase and add custom features.
3. App Preview and Production Phase: Preview changes in real-time using Preview Simulator or Twinr App. Generate Keystore information using Command Prompt or Android Studio. Publish app to Production.
4. Submit App: Generate Build Files and Submit apps to Google Play and Apple App Store.
Twinr Features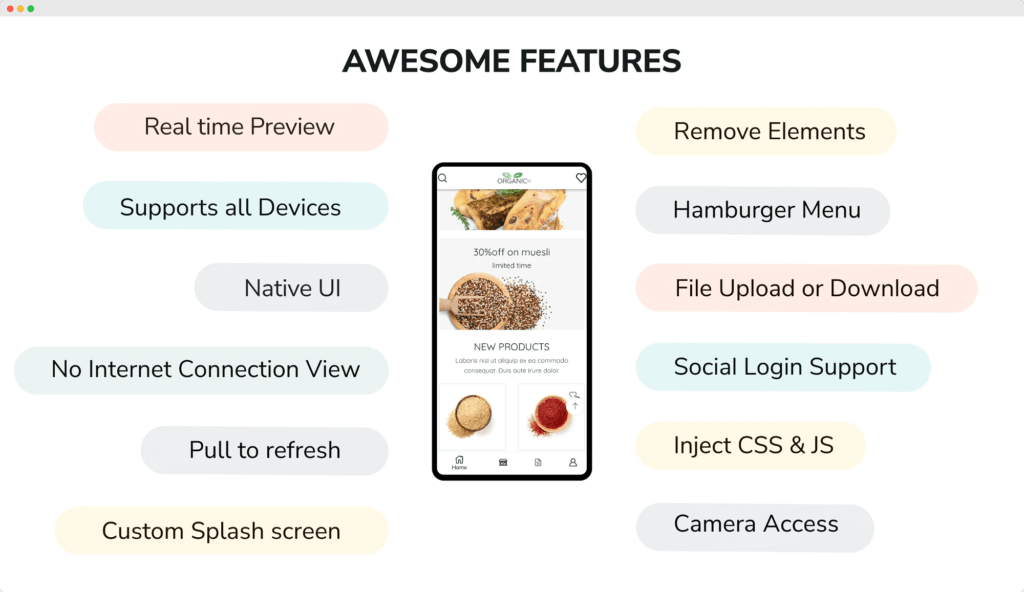 1. App Templates: Blank, Ecommerce, Restaurant, News
2. Supports All Devices and Technology Frameworks: WordPress, WooCommerce, Shopify, Wix, Magento, Webflow, Bubble, React, Angular, Laravel, Drupal.
3. App Branding & Theme Customization: Enter App Name, Android Package Name and iOS Bundle ID (Unique App Identifiers). Upload brand icon and App launch screen image.
4. Android/ iOS Push Notifications are being sent using Firebase. It will ask you to upload google-services.json/ GoogleService-info.plist on Twinr portal.
5. URL Handling Policy: URL handling policies offer a flexible way to deal with different URLs. You can define a general policy for Same Domain URLs and Different Domain URLs, or create custom policies based on URL matching.
6. No Internet Connection View: No Internet view is the best way to notify users they are offline while trying to access our app. Twinr let's you customize No Internet View instead of having infinite loader.
7. Remove Element: Remove element option allows to remove any webpage element dynamically from the page with the help of Elements Identifier.
8. Pull to Refresh: Twinr App builder has a built-in feature called "pull-to-refresh" that allows users to refresh the content of their app without having to open it.
9. Login Support: This helps you setup Authentication Flow for your app.
10. Cloud Updates: All of your app updates are served over cloud, so you don't need release new version every time you made a change in your website/ App.
11. Other notable features of Twinr Application Builder: Hamburger Menu, File Upload/Download, Inject CSS & JS, Camera access.
| | |
| --- | --- |
| Founded in | |
| Company Size | |
| Location | |
| Type | |
| Pricing Model | |
| Best For | |
| Active Users | |
| Features | Abandoned Cart Notifications, App Onboarding, Cookie & Cache Mechanism, Custom CSS, Custom JS, Hamburger Menu, In-App Purchases, Multi-Language Support, No Internet View, Page Loader, Personalised Push Notifications, Team Collaboration |
| Integrations | |
| Alternatives | |
Founder's Corner
Founder's Corner
---
" We want to enable each business types to leverage mobile application by making app building process as smooth as possible at an affordable price and make app available in minutes. We want to improve our platform by bringing more features that can help our users, and improve the processes further to make app development and publishing user friendly. We envision bringing AI powered automation and analytics to further help our customers."
– Gaurav Parvadiya (CEO & Founder)
Pricing
Plans and Pricing
---
Twinr offers 14days free trial where you can test out all the features for free without need to pay or without credit card info.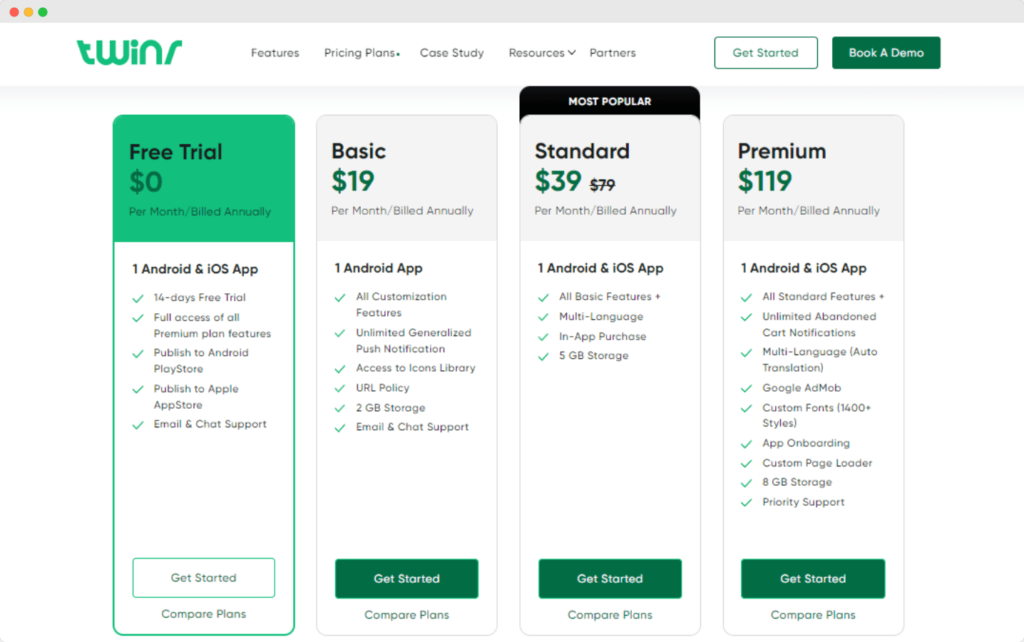 Basic Plan($19/month): If your target audience is mostly using Android devices and you want to build Android app then Basic Plan is perfect for you. It comes with all the essential features you need to build your Android app except external links handling.
Standard Plan ($39/month): With Standard Plan you can publish your apps on Android as well as iOS store. With this plan you also get features like In-App Purchase, Multi Language and 5GB Storage.
Premium Plan ($119/month): If you want to make money from your app either through Ads or selling products, opting for a premium plan is the most suitable choice. You get access to advanced features like Google AdMob Integration, Abandoned Cart Notifications, App Onboarding and Priority Support which will help you achieve your goals without any hassle.
FAQs
Frequently Asked Questions
---
What is Twinr?
Twinr is a cloud-based no-code platform that allows you to quickly and easily create native mobile apps for iOS and Android devices.
What kind of websites can I convert into an application using Twinr?
Any website that is responsive can be converted into a mobile application regardless of the platform (WordPress, PHP, Drupal,etc) or Framework used.
Do I need an Apple or a Google Developer account?
Yes. You will get the APK (for Android) and IPA (for iOS) once you are done building your app.  To publish your application, you will need developer accounts on PlayStore and Apple AppStore.
Are the Mobile Apps White-labeled?
Yes, absolutely. You will have a completely white label solution and you won't have any branding from Twinr on your mobile applications.
Alternatives
Best Twinr Alternatives
---
Latest Comparisons


Bitly URL Shortener
Compare


Kwikcart
Compare


BlogHunch
Compare


Medium Blog
Compare
🎁 Best of Buy or Skip
Get best deals, exclusive coupons, review alerts, freebies and giveaways straight to your inbox!
Thank you for subscribing.
Something went wrong.
No fake promotions. We value your privacy.